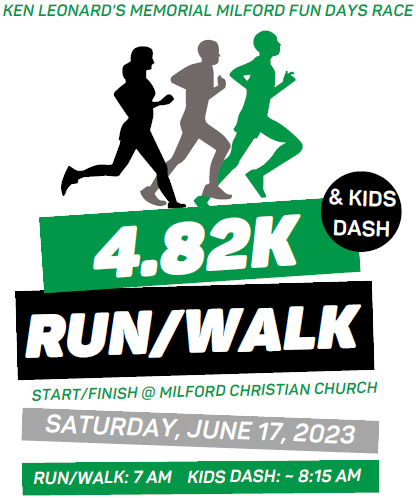 Date
June 17, 2023
7:00 AM 4.82K Run/Walk
~8:15 AM Kids Dash (10 & Under)
Start Location
Milford Christian Church, 811 E Hickory St, Milford, IL
Fees

| | 4.82K Run | 4.82K Walk | Kids Dash (10 & Under) |
| --- | --- | --- | --- |
| Through June 1 | $20 | $20 | $10 |
| June 2 - Race Day | $25 | $25 | $15 |
Registration must be completed by June 1 to be guaranteed a t-shirt.
Registration
Register race day beginning at 6:00 a.m. at the Milford Christian Church.
Event Information
Awards: For adults, the top 2 male finishers and top 2 female finishers from BOTH run and walk walk categories. Youth medals for all participants.
For More Information
For more information, please email Jennifer Van Hoveln at Jvanhoveln@mpsk12.org.