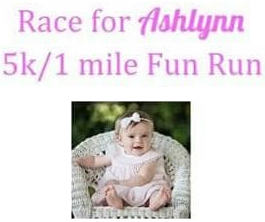 Date
September 15, 2018
8:30am - 5K
9:30am - 1 Mile Fun Run

Start Location
Little Ocmulgee State Park, 80 Live Oak Trail, Helena, GA

Fees
5K
13 & over
5K
under 13
1 Mile
Through September 8
$30
$20
$20
September 9 - Race Day
$35
$25
$25
An additional $5 parking fee will be collected per vehicle by Little Ocmulgee State Park. Registrations received after September 8th are not guaranteed a t-shirt.
Registration
Register race day beginning at 7:30am.
Event Information
Runners, Walkers, and Strollers are welcome! Please come out and support Ashlynn's fight. All proceeds will be donated to the family of Ashlynn Johnson, daughter of Andy and Mandy (Payne) Johnson, to help with medical and travel expenses during her journey. Please join us in supporting this great cause and benefit your own health too!
1st and 2nd place medals offered for each 5K age group.
For More Information
For more information, call Karla Jones at 229-425-7302 or Brooke Yawn at 229-318-9615.